Silver prices remained depressed despite that gold has rallied since the beginning of 2016. However, the gold to silver ratio -a key indicator of the relative value of silver- has widened further suggesting that silver is sharply undervalued.
From a future perspective, a growing industrial demand triggered by silver use in the fabrication of solar panels and the secular trend to clean power is expected to drive higher demand. In addition, a sharp reduction in investment by miners will place pressure on silver supplies and cause production to fall.
The latest market jitters and concerns over the outlook for the global economy have triggered a renewed interest in gold with the lustrous yellow metal climbing 3% over the last year to be $1,219 per ounce. Much of this has come from investors seeking to offset the volatility of stocks and a flight to safety as they try to find an asset class with no correlation to stocks.
So far other precious metals have failed to keep pace with gold and silver sometimes known as "poor man's gold" remains heavily undervalued. Even silver ETFs have failed to keep pace with gold ETFs.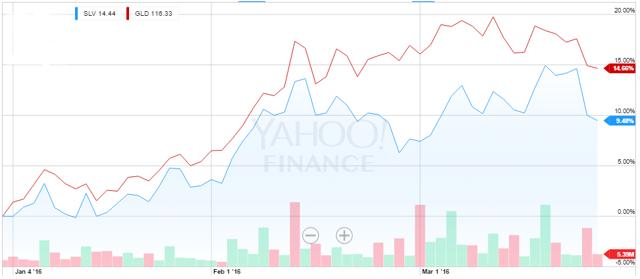 This has created an opportunity for investors with a range of fundamental indicators highlighting that silver remains undervalued and now represents a solid long-term opportunity for investors seeking exposure to precious metals.
Background
Silver is considered by some analysts as the precious metals play of the decade. Still, during the past one year, silver has performed poorly with its price declining by 9% and has failed to keep pace with gold which has risen by 3% for the same period.