For the first time in history, global venture investments surpassed $100 billion in Q1 2021. According to the research data analyzed and published by Sijoitusrahastot, worldwide funding hit an all-time high of $125 billion during the period.
Compared to the first quarter of 2020, that marked an increase of 94%. It was 50% higher than the Q4 2020 figure.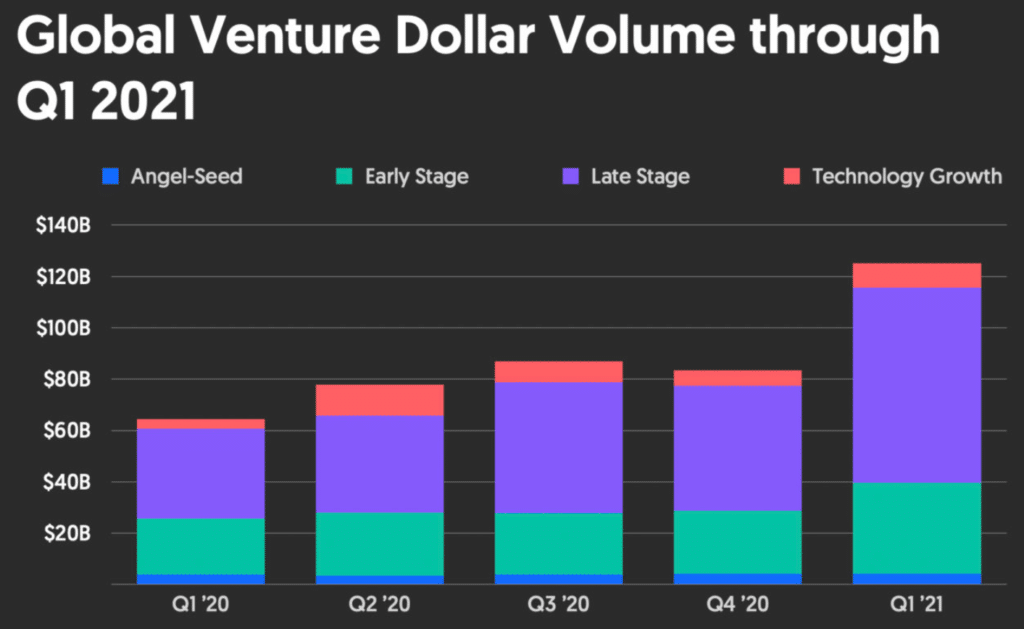 The new quarterly record is considerably higher than the previous one of $92 billion set in Q4 2018. Q2 2018 was close behind it, with a total of $91 billion. Q3 2020's total of $87 billion now ranks fourth on the list of highest funding quarters.
In addition to the enormous boom in investments, there was also record performance in the creation of unicorns. During the three-month period, there were a total of 112 new unicorns created according to the Crunchbase Private Unicorn Board.
It translated to an average of close to two new unicorns every day. For some perspective, the whole of 2020 saw the creation of 159 companies join the ranks. That was the equivalent of one new unicorn every two days.
Overall, unicorns attracted a total of $57.9 billion in funding, close to half of the total Q1 2021 VC investment figure. Comparably, unicorn companies accounted for about one-third of the VC capital in 2020.
Late-Stage Funding Up by 122% to $85.6 Billion, Accounting for 68% of Global Total
As is typically the case, late-stage funding played dominant role, accounting for 68% of total investment in the quarter. Together with technology growth, the segment posted a 122% increase from $38.6 billion in Q1 2020 to $85.6 billion in Q1 2021.
79% of the figure went into rounds of $100 million or higher, compared to 74% in Q4 2020 and 63% in Q1 2020.
On the other hand, early-stage funding set a new record, jumping by 63% YoY from $21.8 billion to $35.5 billion. Notably, the number of deals in the segment, 1,605, was significantly lower than the 1,813 deals recorded in Q1 2020. However, there was an increase in the number of rounds surpassing $100 million.
Seed and angel investment held steady in the period, hitting $4.1 billion compared to $3.9 billion in Q1 2020 and $4.2 billion in Q4 2020.
Acquisitions of VC-backed companies rose by 44% YoY from 434 deals worth $31.0 billion in Q1 2020 to 631 deals worth $57.1 billion.
A total of 80 VC-backed companies went public during the quarter. The highest-valued company at the time of IPO was Kuaishou Technology at $150 billion. Coupang followed behind it with less than a third of the value, at $60 billion. RELX Technology was third with a value of $45.8 billion.
Europe VC Funding Jumped by 130% to $21.4 Billion, North America Up by 103% at $72.7 Billion
As was the case on the global landscape, venture funding also soared to new highs in Europe and the US.
European startups raised a collective $21.4 billion in the period, 130% higher than the $9.3 billion raised in Q1 2020. Every funding stage posted growth with late-stage funding recording both the highest value and the highest increase.
Late-stage and technology funding shot up by 202% YoY to an all-time high of $14.3 billion, up from $4.6 billion in Q1 2020. There were a record 54 rounds valued at $100 million or more, with Klarna and Cazoo raising billion-dollar rounds.
Early-stage funding increased BY 62% YoY to $5.8 billion, also an all-time high for the region. Seed funding was up 26% YoY at $1.3 billion, the highest figure on record. 16 new unicorns joined the ranks during the quarter, compared to 15 in the whole of 2020.
According to CNBC, citing Ernst & Young data, venture funding in the US during Q1 2021 reached $64 billion, the highest quarterly amount on record. The figure was equivalent to 43% of all VC capital raised in 2020.
During the period, there were 183 deals valued at $100 million or higher, more than half the number posted in the whole of 2020.
The highest-valued deal was a corporate round for Cruise, an autonomous car company, which raised $2 billion. Leading the round was Microsoft, under a strategic agreement with General Motors.
Gopuff, a digital convenience store, took the second spot with a $1.15 billion raise. Robinhood and Databricks raised $1 billion each while SpaceX raised $850 million.
For North America (US + Canada), VC funding during Q1 2021 hit $72.7 billion according to Crunchbase. That was 103% higher than Q1 2020 and 57% higher than the previous quarter. Driving the massive growth were 194 rounds valued at $100 million or higher. $51.0 billion went into late-stage rounds, $19.7 billion into early-stage and $1.9 billion in seed and angel investments.