Apple's record-setting market value eclipsed $800 billion for the first time on Tuesday. Wall Street market analysts expect its relentless march could take it to $1 trillion later this year.
Also today, the research firm Strategy Analytics said that the iPhone remained the world's most popular smartphone by a significant margin last quarter.
iPhone 7 and iPhone 7 Plus were the two most popular models specifically, with an estimated 21.5 million and 17.4 million shipments respectively.
Apple's primary cash cow, the iPhone, could help the company surpass $1 trillion in market value. The 10th-anniversary version of the smartphone is expected to be a big seller, creating a large stock run-up in the days leading up to its rumored release in September or October.
Shares of the iPhone maker have soared 33% this year, and nearly 40% since the U.S. presidential election last November. On Tuesday, they inched up to $153.96, giving Apple a closing market cap of $802.8 billion — large enough to make it one of the top-20 countries, by gross domestic product, based on estimates from the International Monetary Fund's World Economic Outlook.
Apple, which passed $700 billion in market value more than two years ago, is the first U.S. company to pass the $800-billion mark.
The tech giant's shares have benefited greatly from stock buybacks: Over the past four years, the company has shaved its actual share count by 20.9%, according to data from S&P Dow Jones Indices.
Apple shares have benefited from a hot stock market and sharp growth in Apple Services — a $7 billion-per-quarter division that in three years could account for nearly one-third of the company's sales.
Apple reported that it sold 50.8 million iPhones last quarter, but it does not break out sales on a model-by-model basis.
Strategy Analytics' estimates suggest the iPhone 7 and iPhone 7 Plus accounted for roughly 76.5 percent of Apple's smartphone sales last quarter, with the remaining 23.5 percent of sales derived from older models. The data also suggests a 55/45 percent sales split for the iPhone 7 and iPhone 7 Plus respectively
Chinese brand OPPO's flagship R9 smartphone trailed in third with an estimated 8.9 million shipments, while Samsung's mid-range Galaxy J3 and J5 rounded off the top five with an estimated 6.1 million and 5 million shipments respectively. Other brands combined for an estimated 294.4 million smartphone shipments.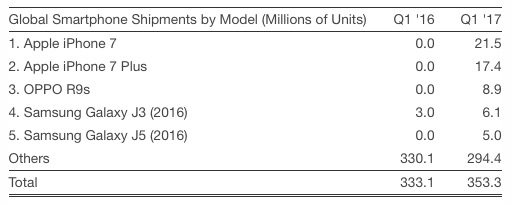 iPhone was the world's most popular smartphone last year as well, according to research firm IHS Markit.